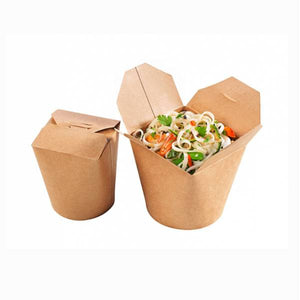 Kraft Noodle Take Out Container 32 Oz. 500/Cs.
Sweet Flavor's "Take-Out" collection offers the irreplaceable Kraft paper noodle take out containers 32 oz.
Perfect for all cooking styles on the planet whether it is to remove Italian, Chinese, Japanese Hindu, Oriental, or even European food, this holder will keep your clients' nourishment hot or cold for more.
Made of Brown Kraft paper, its internal covering is "stain-safe"; the manner in which the Noodle container is folded likewise enables the meals to be transported without harm.
Our items are Eco-friendly and totally Green.
Sweet Flavor gives great importance to the preservation of our planet with the latest manufacturing technologies.....This is a piece of our quality contract!
Sold in boxes of 500 pieces.
Available in 26oz and 16oz